Beyond hotels & resorts, here are portraits of the People of the Maldives. A gallery of photos made on several local islands.
Going back into my Maldives photography archives for the recent Nat Geo exhibition, I found myself going back in time and somehow re-discovered some of the photos I took the past 20 years in Maldives.
I went through some wonderful memories I would like to share here in a short series.
The first batch of images is the one that has probably let me the smoothest feelings among the thousands of emotions I have had photographing the Maldives : the People of the Islands, the Maldivians. The real soul of the island nation.
Wandering around some local islands to share moments of everyday life in Maldives, I met many beautiful persons whose portraits celebrate the many faces of the people of the Maldives.
Each photo shows a piece of life, a glimpse at a moment that the people of the islands shared with me. They all accepted to be photographed.
I wonder where they are now, so many years after…
All photos are published in Dreaming of Maldives The Photography Book VOL 1, 2 and 3.
Thank you Rozenn for being by my side in this adventure and helping me writing this series. 
More photos will follow. Stay tuned.
Beyond hotels & resorts, here are the People of the Maldives.
Each encounter I had was surrounded by smiles, laughs and a lot of happiness. I also recall modesty and a profound kindness. Each island was also very quiet and so peaceful.
Photo : Under the shades of trees a mother and daughter were weaving coconut palms that would then be used for roofing in nearby resorts. They both laughed at my request to photograph them during this teaching moment. Here they are in their most natural happy mood.
2005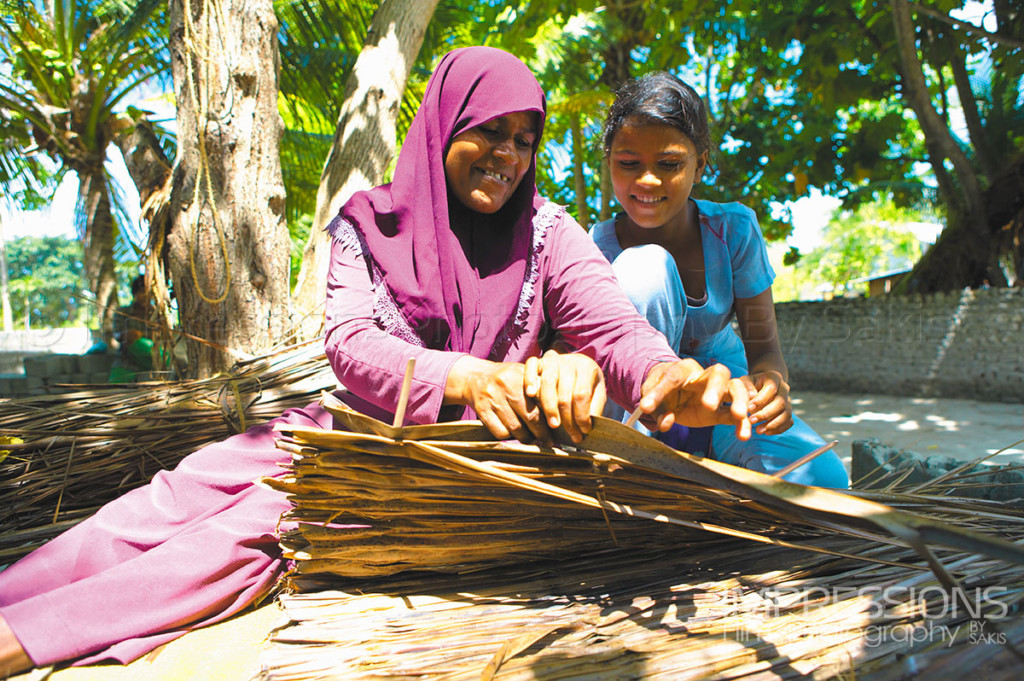 Called Kajan, these weaved palms ornate the roofs of several resorts in Maldives. It's an old tradition in the archipelago Maldives that is still kept and transmitted from generation to generation by women.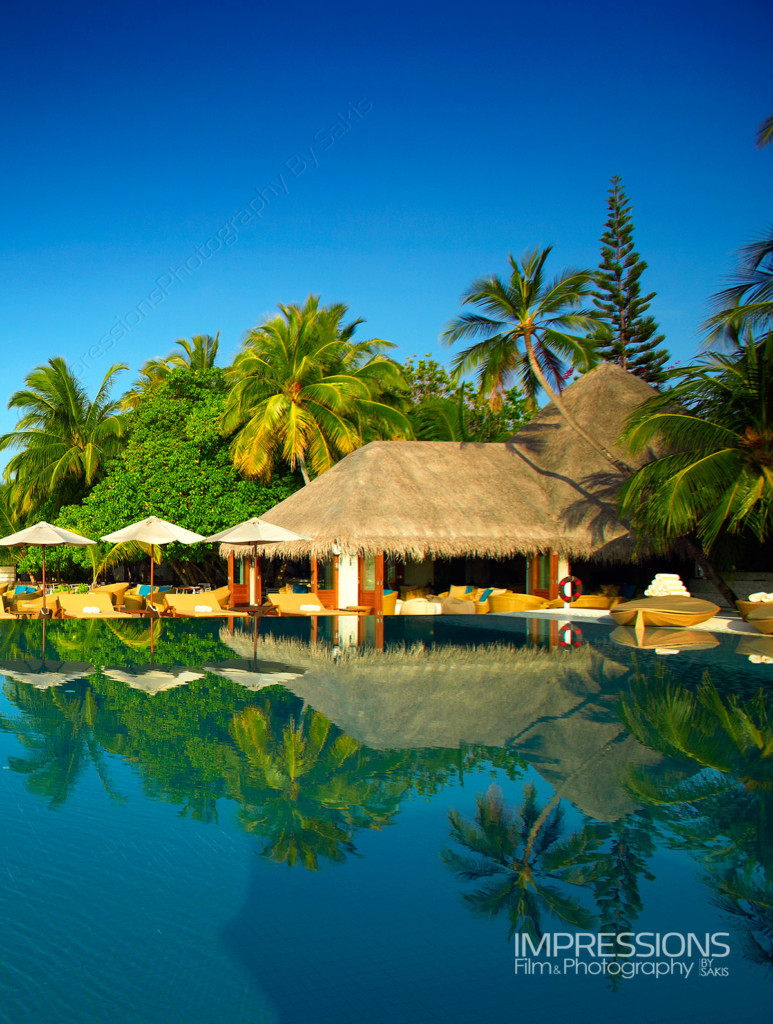 Kajan used for roofing like here at Huvafen Fushi
Kajans are exclusively weaved by women hands. They patiently process them from their early stages when the leaves are still green. The final product is made of dried leaves only, when their structures get more resistant to water and heat.
These roofing material requires a lot of time and patience. Synthetic kajans are more and more imported into the country to supply the increasing amount of new hotels.
Photo : I met this lady on one of the sandy streets of a local island. Her hookah was standing behind her, close to the coral wall of her house. She was smoking during her brief breaks. She accepted to take the pose for me. Her eyes stroke me.
2004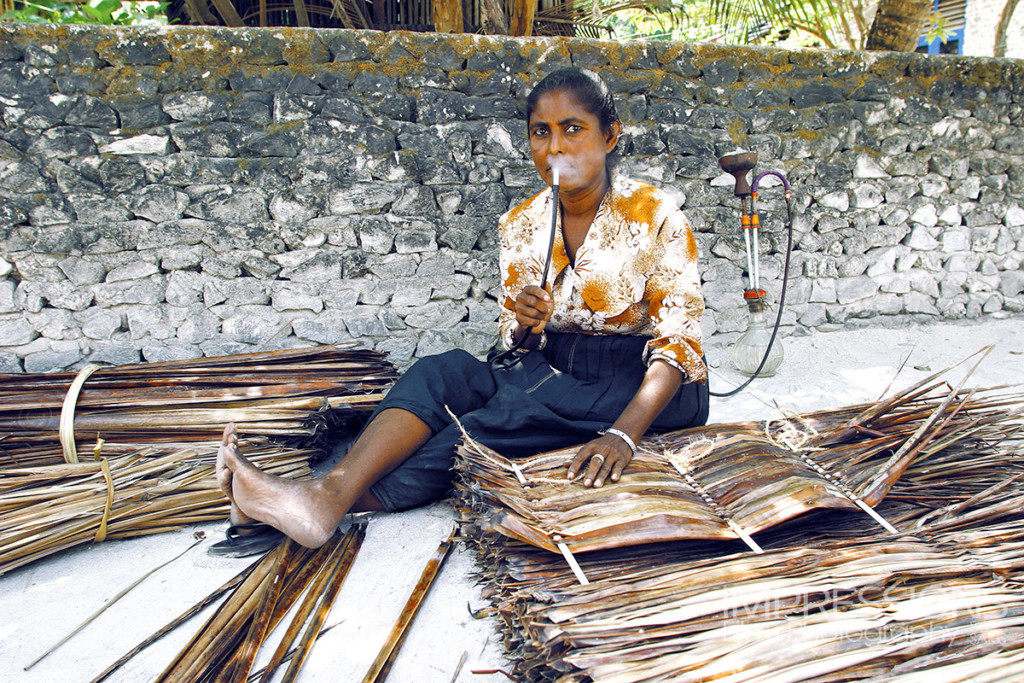 Making ropes
Photo : Here a lady was sitting in a joali ( the Maldivian traditional relaxing chair found on every single island of the archipelago ) and is preparing coconut leaves for ropes making.
These ropes will then be used for joali netting and other general uses.
2005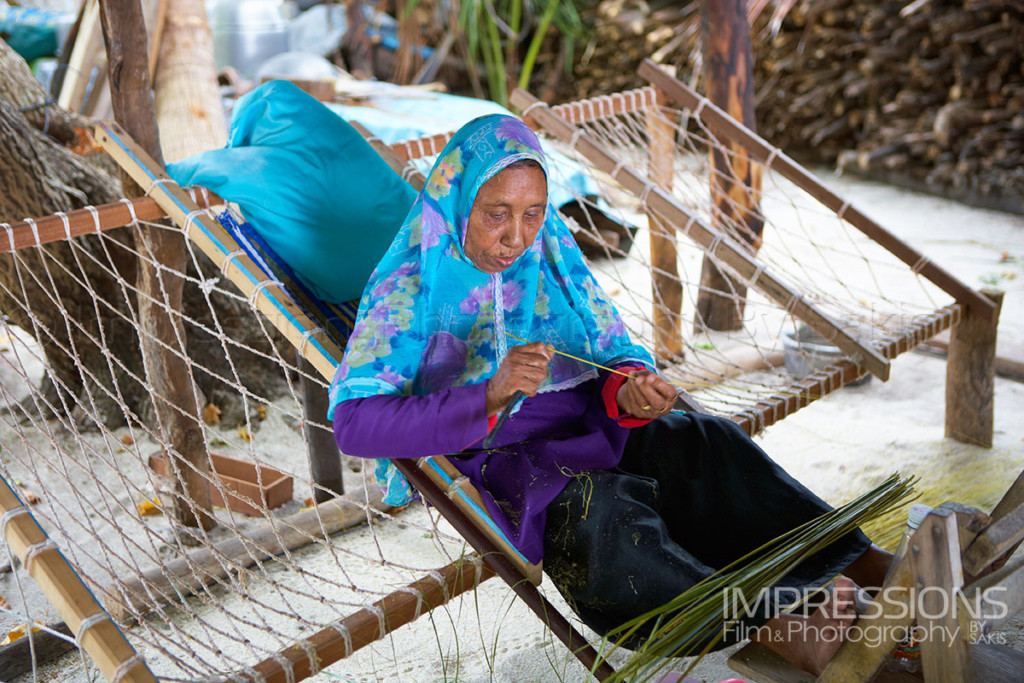 Coconut leaves are also weaved in a thinner form on a mat weaving frame to make mats called Kunaa, found in many Maldivian houses.
2008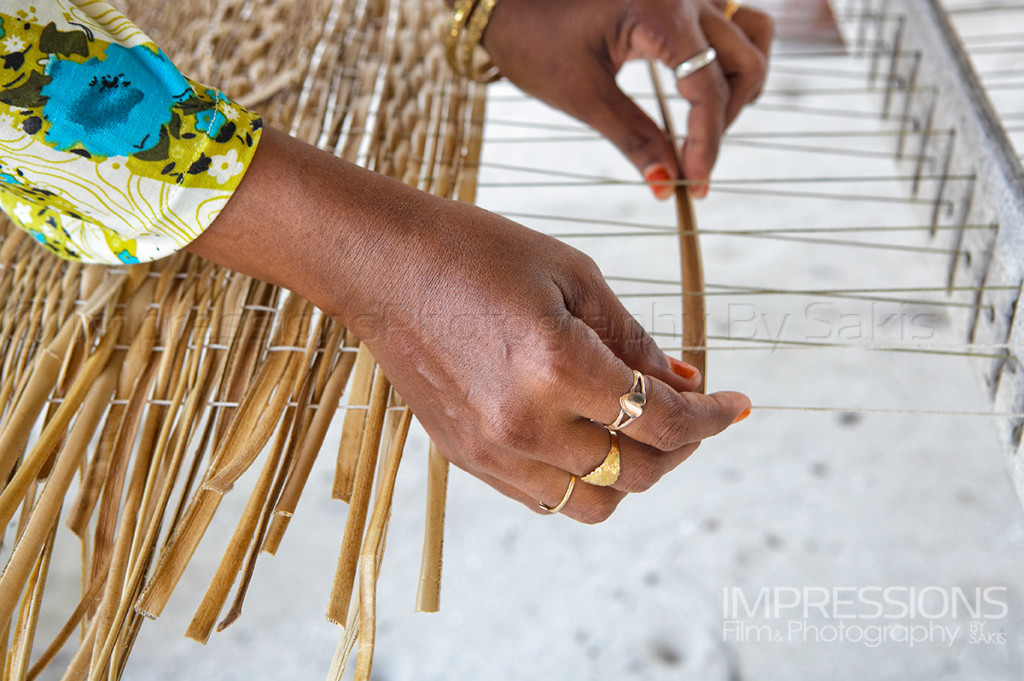 Proud mothers and kids of the islands. True smiles.
Photo : A happy and smiling young mother poses with her baby girl in a joali.
2009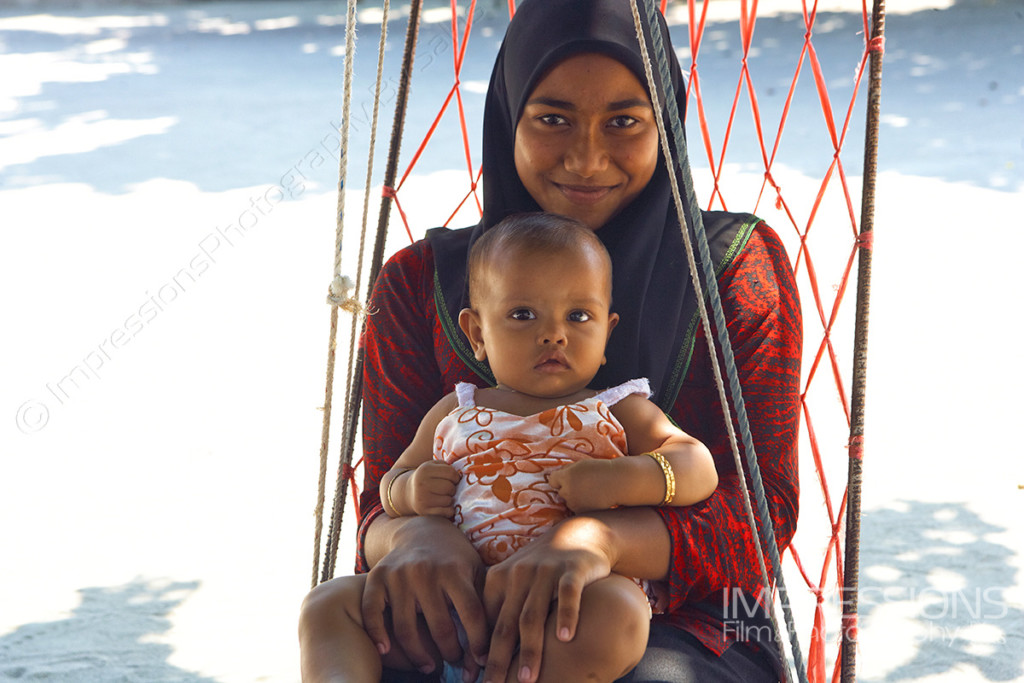 Photo : This boy was having a blast in his hanging joali. The blue background created by the island lagoon behind him made a perfect decor to surround his happiness.
2010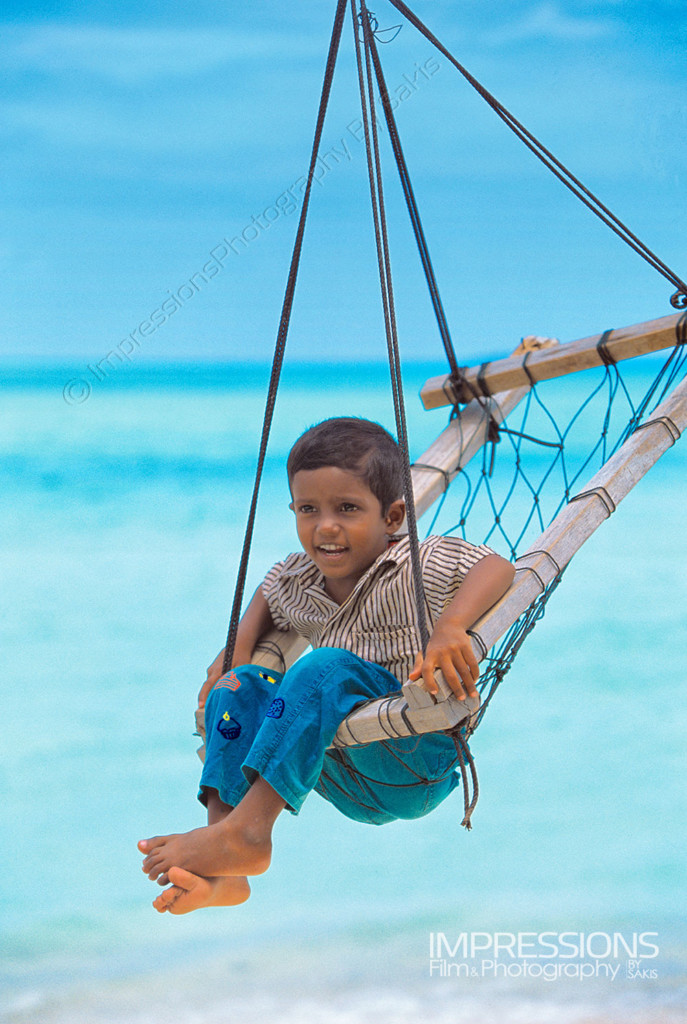 Photo : This group of children was playing under the shade of a big tree and took the pose for a while meanwhile playing.
2005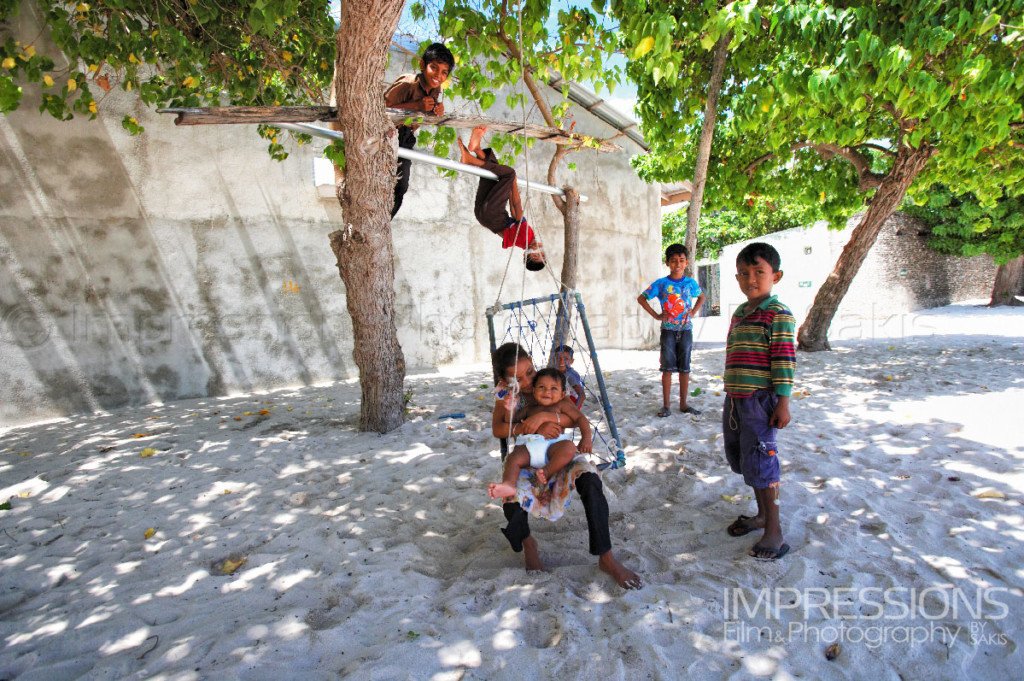 Photo : It was then the end of a morning, one of the hottest hour of the day. Everywhere on the beach, groups of people, youngsters and elders, were resting and discussing under the shade sitting on joalis installed in many places for the people to gather and relax.
This young Maldivian girl was peacefully enjoying the moment with her small brother and got amused by the photo, letting her companion wondering…
2010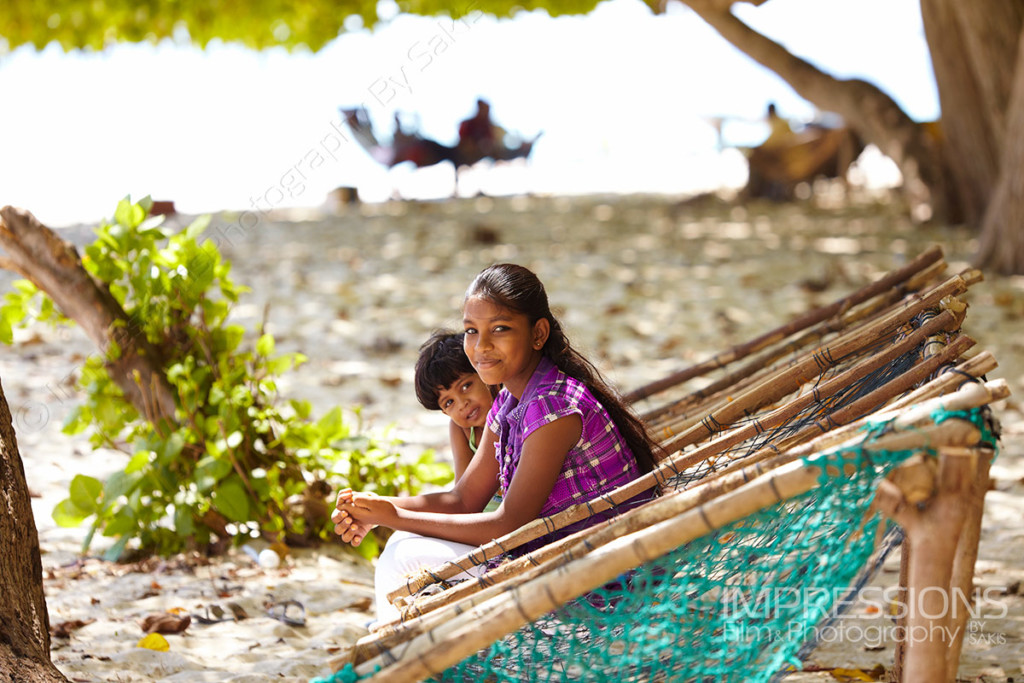 Photo : Another happy mother opened her colorful door and proudly presented her young baby girl.
2009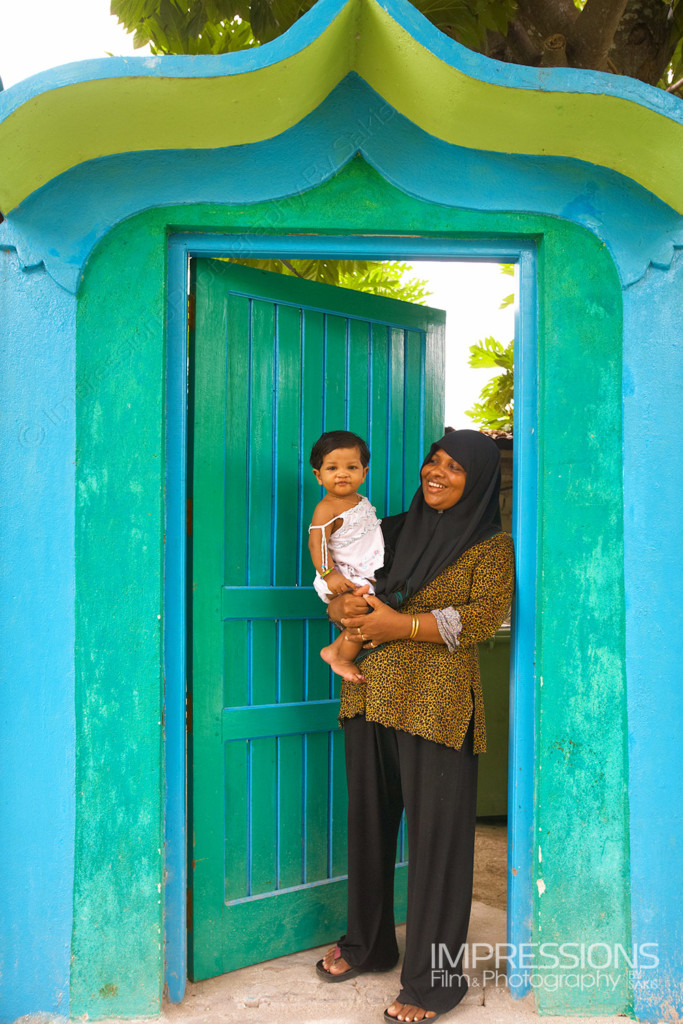 Photo : This young girl was playing with her small brother under the shade of a tree. Happily playing barefoot in the sandy streets of their island.
2010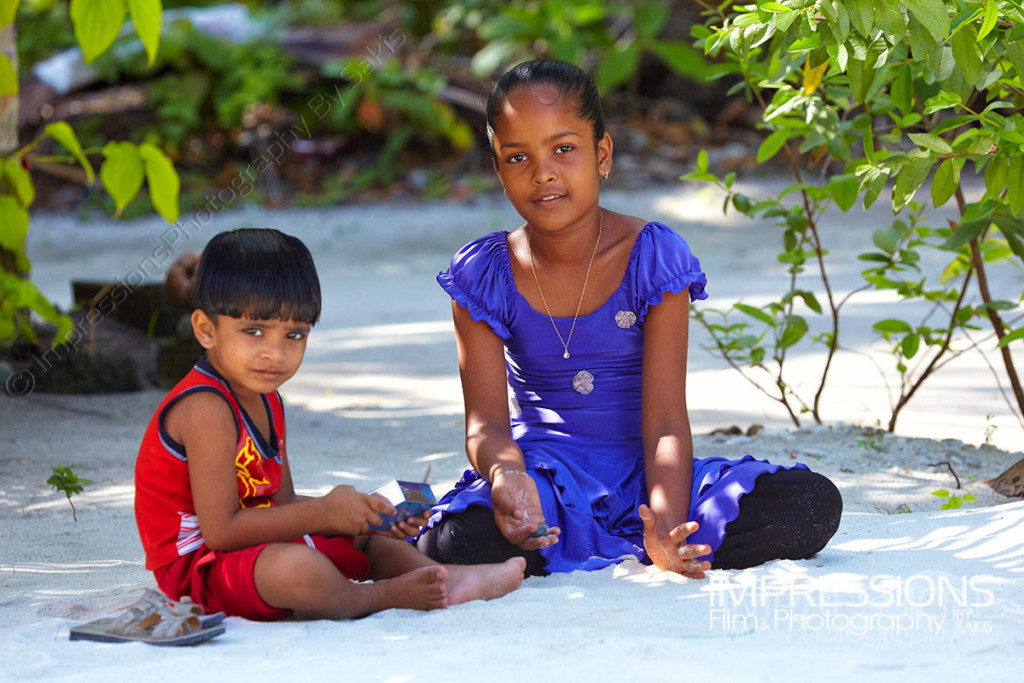 Photo : She was so amused to be photographed that I asked her to make a single portrait of her. We chose some coconut palms as a shade shelter so she would not be dazzled by the sun.
2010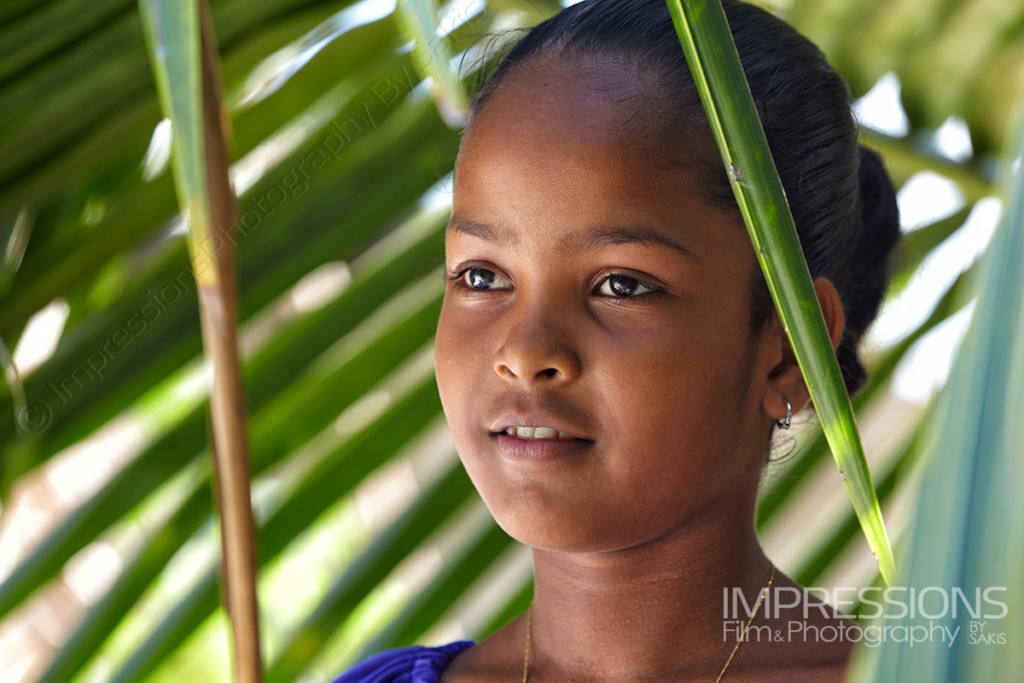 Photo : 2 sisters looking right at the camera. Happiness is always in the eyes !
2007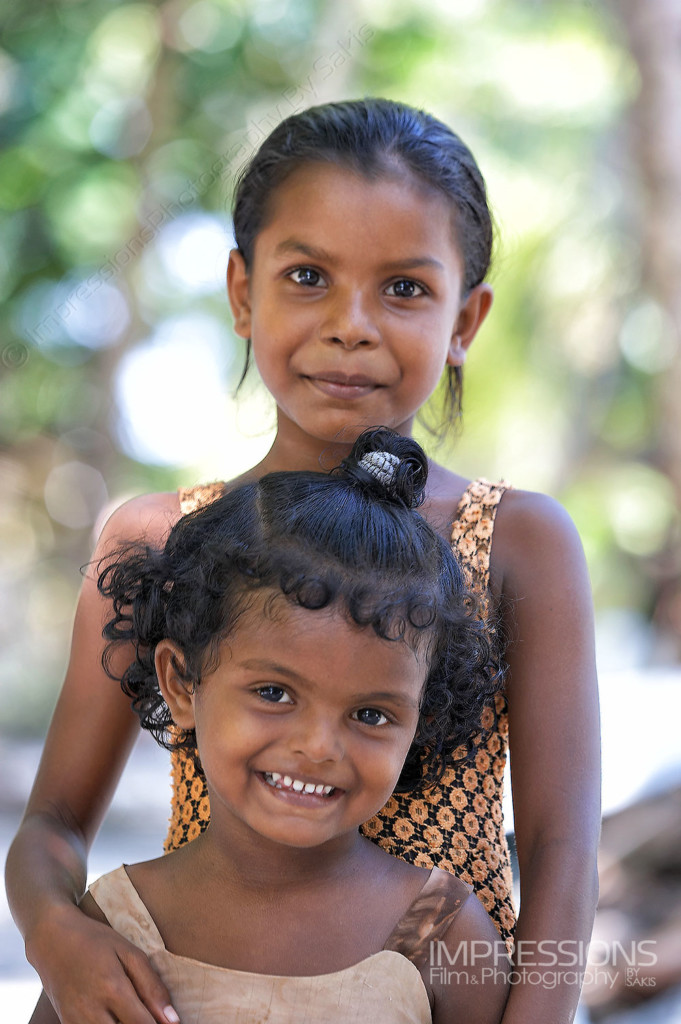 Photo : Photos are fun, the young smiling big sister also accepted a single portrait of her.
2007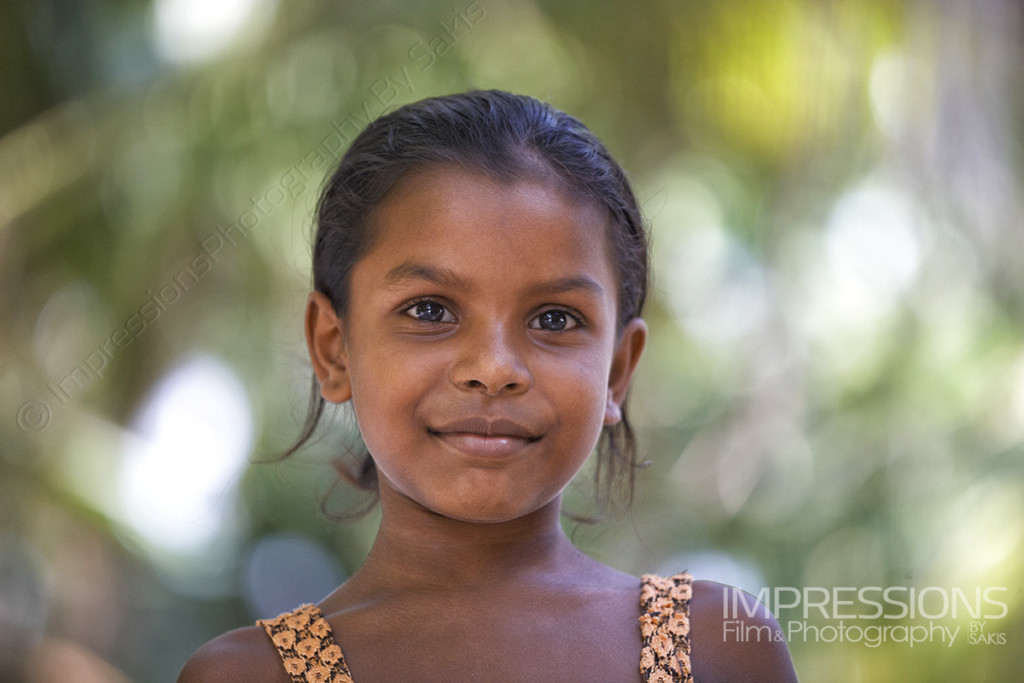 Photo : There is nothing better than a generous present of a football ball ! I hope his star brought him luck.
2005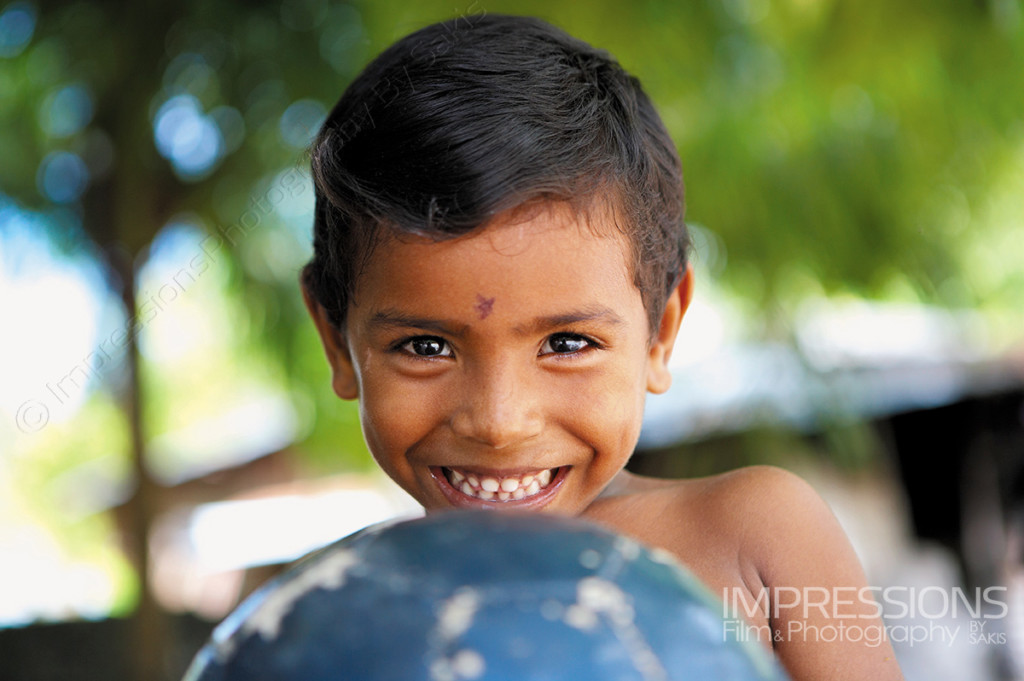 Photo : On the beach, 2 friends having a conversation.
2005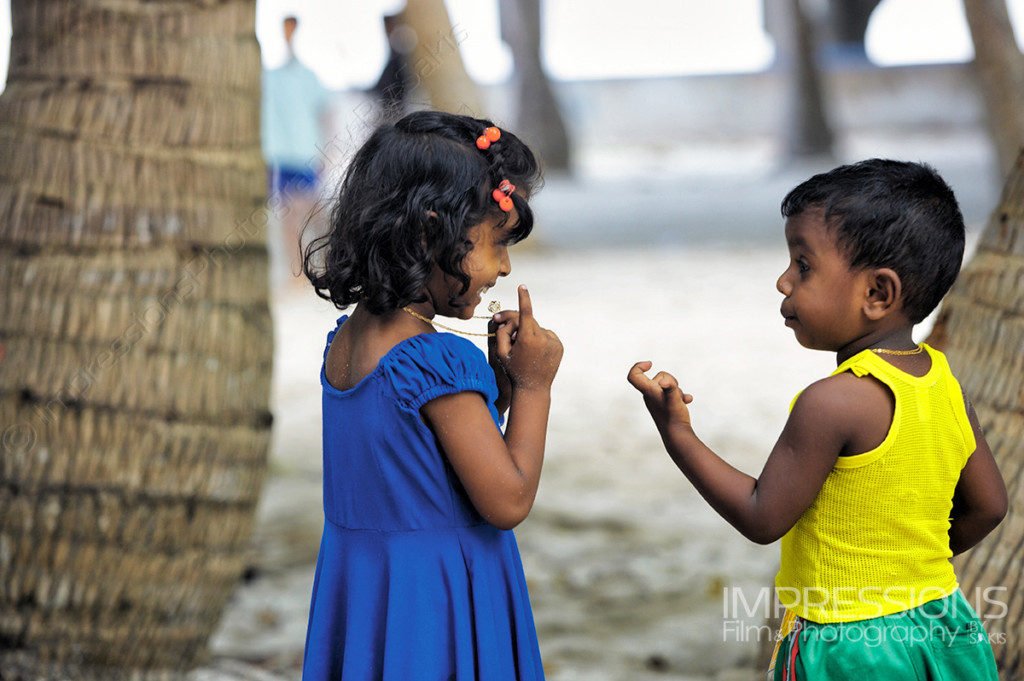 Photo : Along the beach, a man is relaxing with his hookah. I remember the intensity of his eyes looking right at the camera.
2008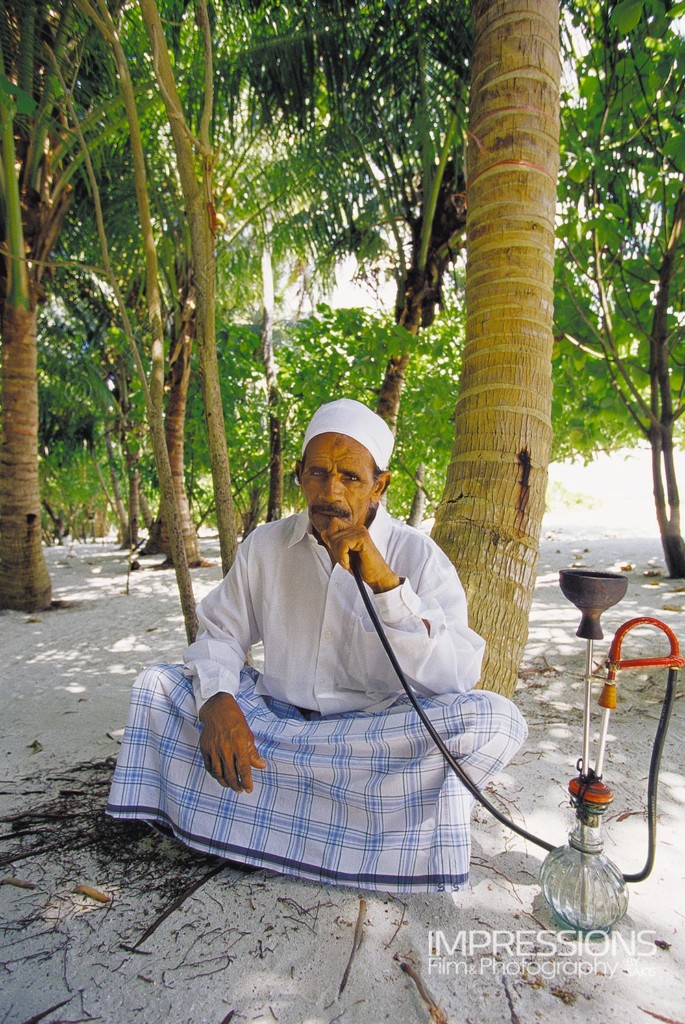 Photo : I was looking to photograph traditional Maldivian clothing. This young Maldivian lady accepted to create this serene moment for us and dressed up with her traditional dress and jewellery for the occasion.
I am still amazed by the confidence she had in her eyes.
2008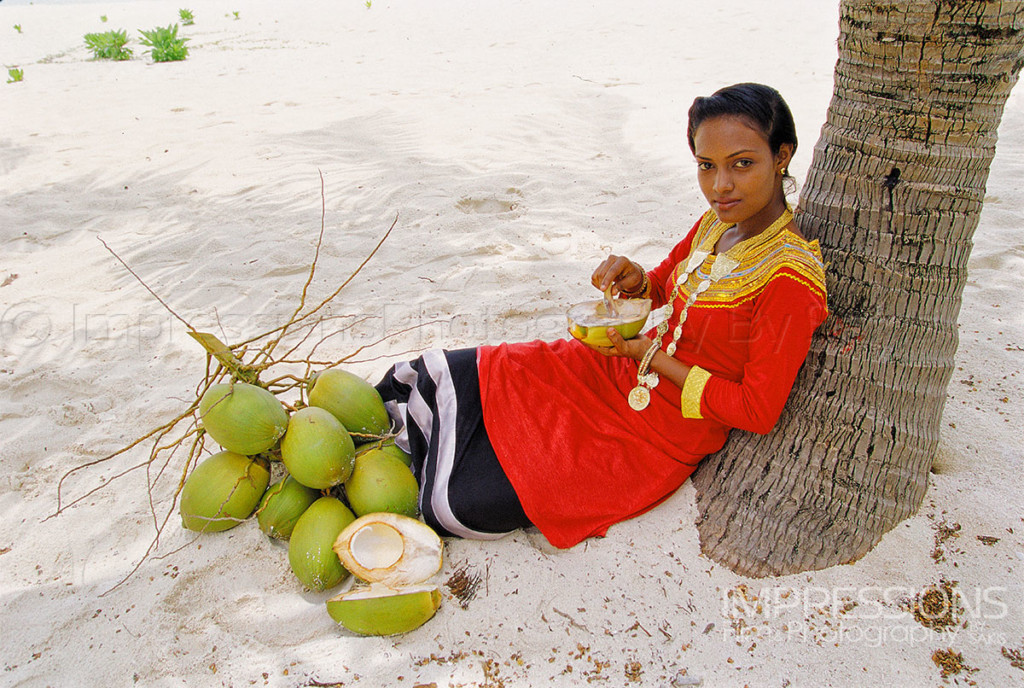 Photo : this gentleman was cleaning some nuts with is wife on the beach. We chatted for quite a while about life and his activity. Nut cleansing was relaxing him. I remember such a happy and kind soul. His eyes stroke me. I asked him to make a portrait of him. Here he is.
2010